Keith (Kip) Pascal's Magic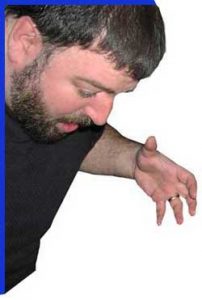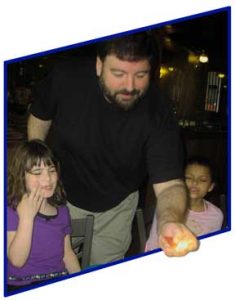 Kip's Magic History
1960s
1967- Taking a cruise ship to Italy with his parents, Kip, then seven years old, learns his first magic trick from Professor Ray Hyman.
1968 — Kip enrolls in his first magic class with Mel Anderson, through OMSI (Oregon Museum of Science and Industry).
1969 — Starts frequently Callins Novelties in Portland, Oregon.
1970s
1971 — Performs for PTA … and is paid!1972 — Performs for Temple Beth Israel Hanukah Party, various birthday parties, and organizes a neighborhood magic show.
1974 — Performs for and with Jimmy Yoshita in Honolulu, Hawaii. Starts taking private lessons from Jim Richardson. Meets and starts learning from Jerry Andrus at the local meeting.
1975 — Starts sharing magic with Ken Evans and devotes time to learning all of Andrus Card Control. Teaches magic classes.
1976 — Continues performing magic. Teaches magic for Eugene Parks and Recreation Department. Does magic with Ron MacMillan in London, England.
1977 — Opens magic shop, "What's Next?" Uses magic income to begin funding college.
Runs magic shop, teaches classes, and goes to college through March, 1983.
1980s
1982 — Performs magic on the streets of Italy.
1983 — Teaches magic out of Quest Book store (for 3 years). Also teaches private magic lessons in professional magicians' homes.
1985 – Does Italian Magic presentation for Foreign Language Day at the University of Oregon.
1986 — Uses magic to aid teaching of Italian and Spanish at the University of Oregon.
1989 — Begins high-school teaching career. Uses magic as a teaching tool. Teaches magic seminar South Coast library (North Bend).
1990s
1995 – 2000 — Starts and runs largest school magic club in the Northwest. With training, students start working parties, real estate shows, and even Latina Celebrations (The City's 5 de Mayo Fest).
1998 – 1999 Teaches private magic lessons. Organizes school magic competitions.
2000 and Beyond
Almost three years ago, Lee Asher moved to Eugene, to make working with Kip easier.
In that time, Kip has helped Lee write and produce several magic tricks, including Three Stylin, Catch 33, and The Diving Board Double.
Kip has also helped Lee with several DVDs, including The Asher Twist and the soon-to-be-released Pulp Friction.
The two have also colaborated on almost a dozen articles for ezines and such prestigious magazines as Channel One and the Magic Circular. In fact, Lee and Kip now write articles for each issue of those two magazines.
Kip Pascal has recently started a new magic ezine, The Magic Mentor. Kip helps magicians improve their magic performance and their image as magicians with this new, Free newsletter.
Kip's newest book is …
Coin Snatching: The Reputation Builder
Order now, for only $29.95 in hardcover…
Be the First to See the Table of Contents …
Order "Coin Snatching: The Reputation Builder"for only $29.95.