JUGGLERS
What do you do when there's no room to juggle?

(Read Below ...)
| | | |
| --- | --- | --- |
| | Coin Snatching for Jugglers | |
Coin Snatching ... Perfect for Jugglers
Impress Others with Your Juggling Skill Without Rings, Balls, or Clubs (Pins)
Believe it or not, one of the best ways to impress people with your mastery of juggling is to subtley demonstrate your skills while not performing at a show.
My first housemate in college used to juggle fruit in the produce section of the supermarket. At the time, he thought he was impressing everyone.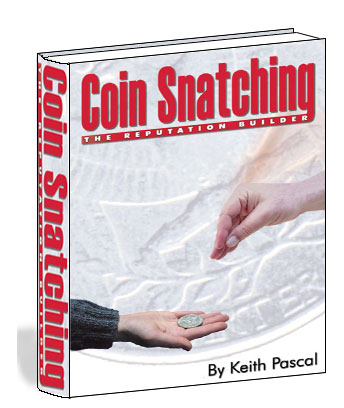 He soon found that he was more annoying than anything else. Through experience, he learned better ways to build his juggling reputation.
One of the best ways to build your reputation as a juggler is by coin snatching. Demonstrating a secondary skill, like speed-reflexes, will have a more lasting impression on those who witness your almost superhuman skill.
You explain that your reflexes developed as your learned to juggle.
Any of the coin grabbing and switching methods in Coin Snatching: The Reputation Builder are suitable as Juggle Enhancers.
By The Way -- Did you know that, over the years, I have demonstrated and taught a few of these techniques to many jugglers. At the 1978 IJA (International Juggling Association) Convention in Eugene, Oregon, I taught several jugglers what is now referred to as the Rochester Switch. Frank Olivier was particularly impressed with the minor miracle.
Rhys Thomas, Sage, Tim Miller, and even a few of the Flying Karamozovs have seen me perform Kip's Take -- my favorite coin switch.
They liked the effects so much, because they were jugglers.
Now, You Can Learn to Speed-Switch a Coin
Guaranteed! (And I do mean a 100%, money-back guarantee.)
Coin Snatching: The Reputation Builder is the first book devoted to developing this talent and building your reputation with this newfound skill.
Learn from the coin-snatching expert. Keith (Kip) Pascal will show you everything from the easiest Beginner's Grab to Kip's Take (The cleanest way to switch one coin for another in a participant's hand).
In no time, you'll be astounding everyone with the Upside-Down Impossible Coin Grab. You'll be able to perform this amazing steal successfully five minutes after reading the directions.
Not all of the moves are asa easy as the Upside-Down Impossible Coin Grab. Some will require more practice ... but all are very practical.
Incredible Coin-Snatching Bonuses
Two ideas that will require more practice than say The Rochester Switch are the bonuses included toward the end of Coin Snatching: The Reputation Builder:
* Calvert's Claw -- John Calvert is possibly the oldest professional magician still making the circuit with a strong magic act. In his 90s, Mr. Calvert has graciously allowed Kip Pascal to describe and publish his routine where he fools the participant by doing the opposite of what he claims. Instead of stealing one called for coin from a handful held by the participant, you steal the handful of coins AND LEAVVE ONLY THE REQUESTED COIN!
Wow.
* The Conversation with Justin Hanes -- This is what happens when creativity meets coin snatching. The result? An entertaining discussion that ends with a tandem steal. By making use of a second spectator, at the same time, you take what is already the impossible and you launch it right out of the galaxy.
Turn this into the climax juggling feat of your act. Perfect for the Street Performer.
Build Your Reputation with Coin Snatching
Coin Snatching: The Reputation Builder's biggest benefit is that it helps you build your reputation. You get direct advice about the subtle and sometimes indirect art of building your reputation.
Whether you are a magician or a martial artist, the presentation tips alone are worth the price of the book. You'll learn to guide the conversation, allow others to request a performance from you, and even how to link your presentation to a story. (Anecdotes are provided in the book.)
Your reputation will precede you!
For $29.95 ...
(+ shipping and handling)
You get this beautiful hardcover book, complete with all the methods of coin snatching and switching, presentation tips, story lines, anecdotes, the two bonuses at the end of the book, and the downloads of the two juggling, reputation-building ebooklets
Or Buy From Amazon.com


(Sorry, no eBonuses on Amazon orders, but you still get the bonus chapters.)
---

Or ...
send a check or money order for $36.95 (U.S.A. orders)(U.S. funds only)
send a check or money order for $59.95 (International orders)(U.S. funds only)
to: Kerwin Benson Publishing
2749 Friendly St., Suite A
Eugene, Oregon 97405    USA

(Be sure to include your email address, and say that you want Coin Snatching (the magician's special). And we'll email you download instructions for your ebonuses.).
More Magic Articles
There are more articles for MAGICIANS here at CoinSnatching.com
Take a look:
"Magicians are the most honest people in the world; they tell you they're gonna fool you, and then they do it."
–James Randi
"The magician and the politician have much in common: they both have to draw our attention away from what they are really doing."
"A good magician's performance tells a story. Each act should build on the next, becoming ever more engaging to fill the audience with wonder. It's a bud that unfurls into a flower, meant to woo the audience."
"Learning never exhausts the mind."
–Leonardo DaVinci
"The art of a magician is to create wonder. If we live with a sense of wonder, our lives become filled with joy."
Enter your email address to join The Magic Mentor


We value your privacy and would never spam you